AWTY 183 - (H)Emology - (Dragon Ball: Sleeping Princess in Devil's Castle with Tyler Denering)
1 month ago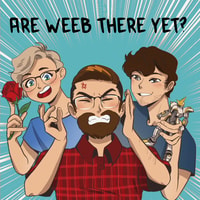 Its about time we cover a major slice of anime, I think we can all agree this is the perfect entry point. We watch the movie Dragon Ball: Sleeping Princess in Devil's Castle with Tyler Denering of The Friendchise Podcast!
In our First episode, Dana and Brendan introduce Patrick to the wonderful world of Death Note!
Have an anime series you want us to watch? email your recommendations to us at areweebthereyet@gmail.com!
Listen to The Friendchise Podcast!
Find Are Weeb There Yet on Social Media:
Thank you:
Camille Ruley for our Artwork
Louie Zong for our Themesong "stories"
https://louiezong.bandcamp.com
Find out more at http://areweebthereyet.com